Overview
Name: Tufting Gun
Location: Textiles Area
Status: Operational
Training: Not Required
Slack Channel: #textiles-arts-and-crafts
Owner: Denhac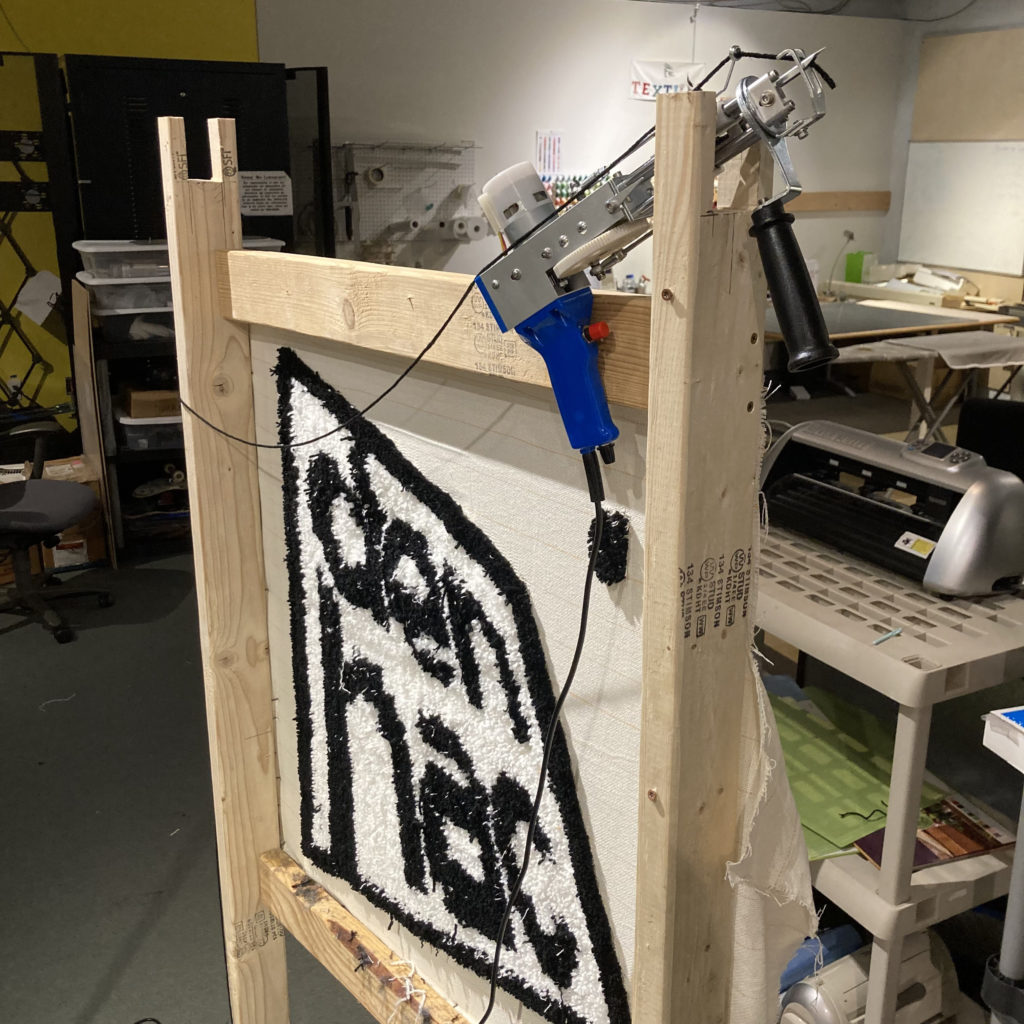 Safety
Don't put your hand in front of the gun and pull the trigger.
Setup
First, cut and stretch the tufting fabric over across the frame. You need to make this extremely taut. Put the fabric over the nails, and gradually work your way around the edge of the frame pulling it tighter bit by bit. Currently the frame is 32x32in.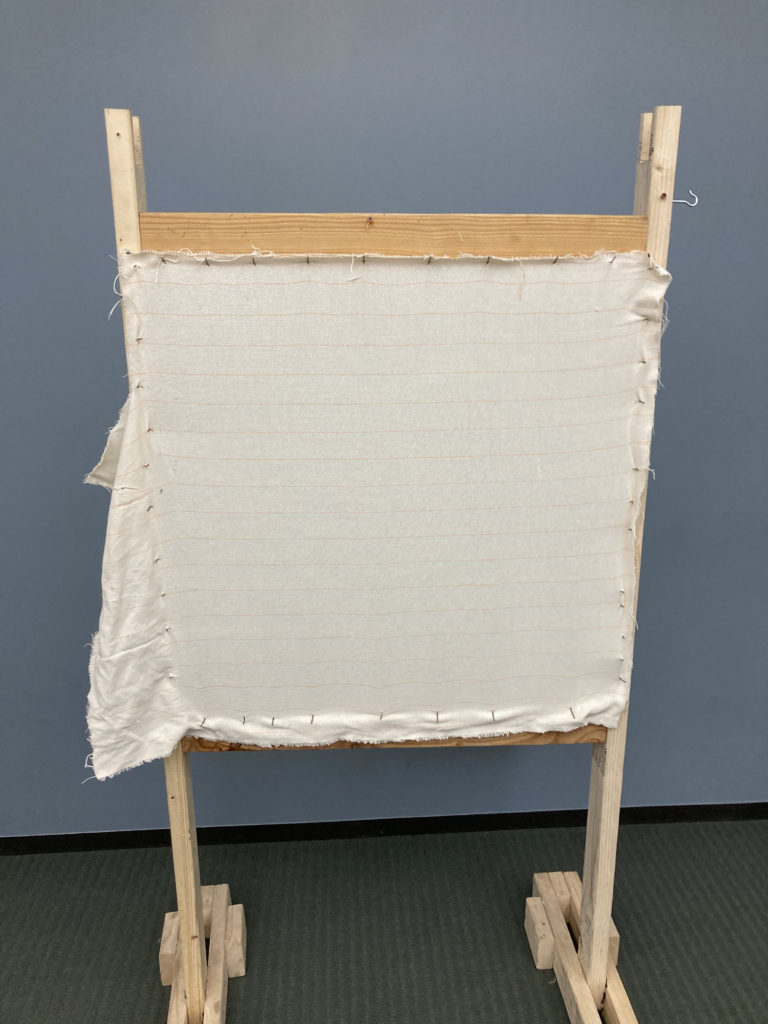 Project a mirrored version of the image you want to make a rug out of onto the fabric. Trace the image with a sharpie.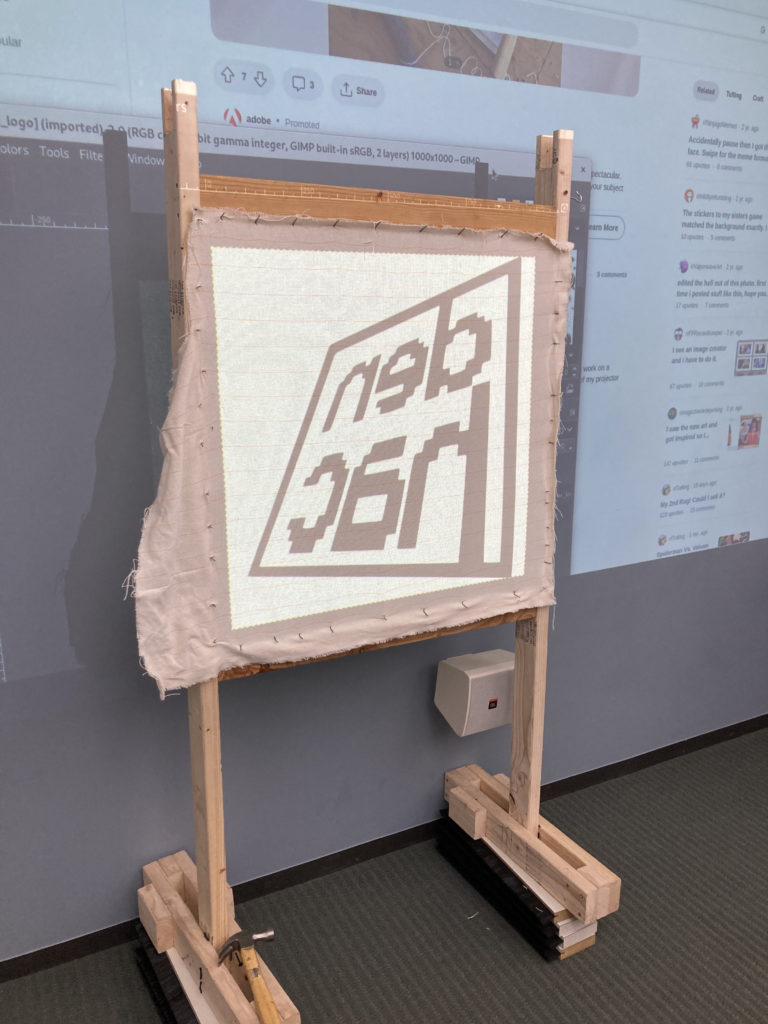 Wind a ball of yarn. The yarn needs to be in ball form in order to avoid line tension during the tufting process. It needs to smoothly feed into the gun.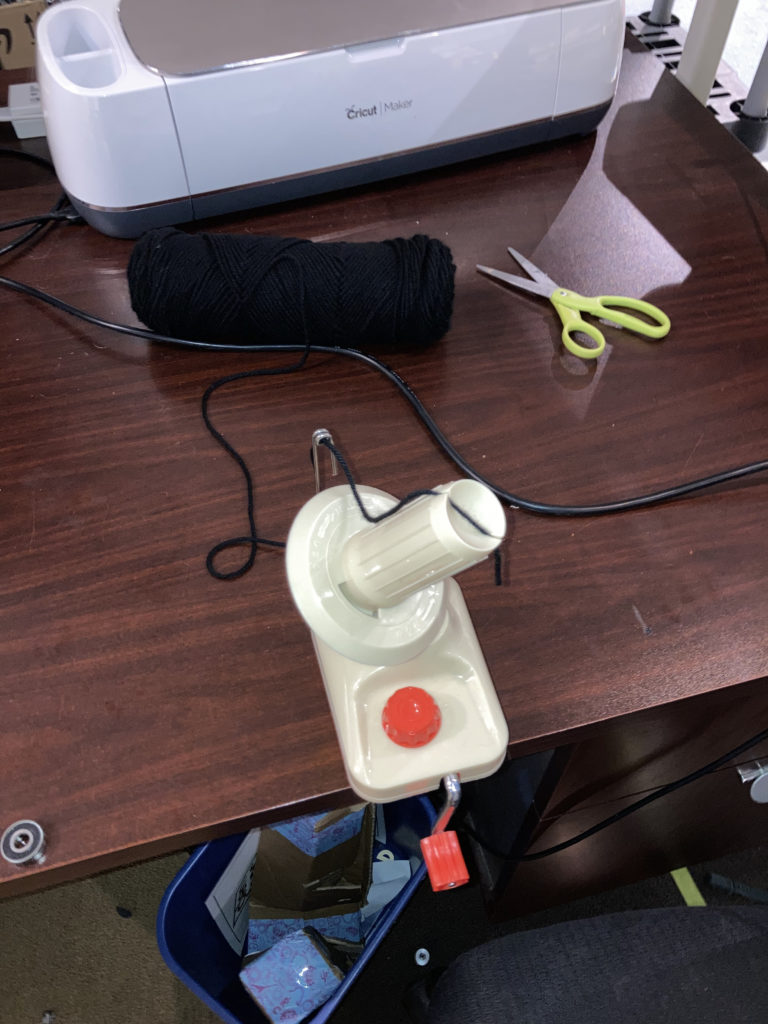 Place the ball of yarn in a bucket/box next to the frame, and drape the yarn over the top hook.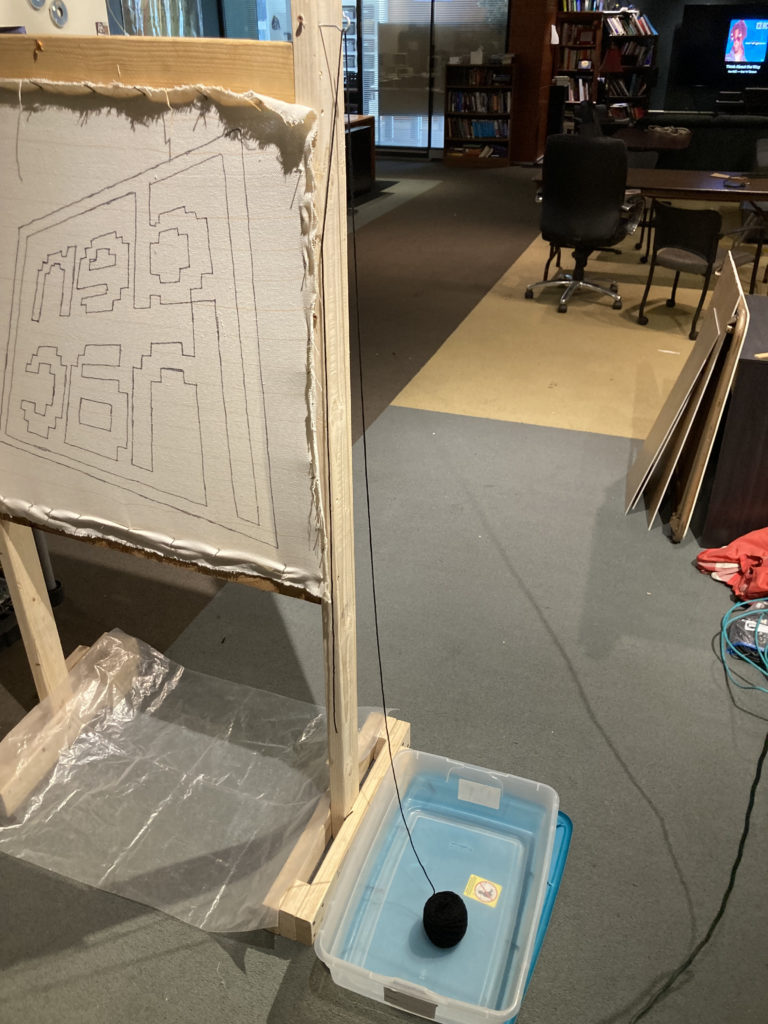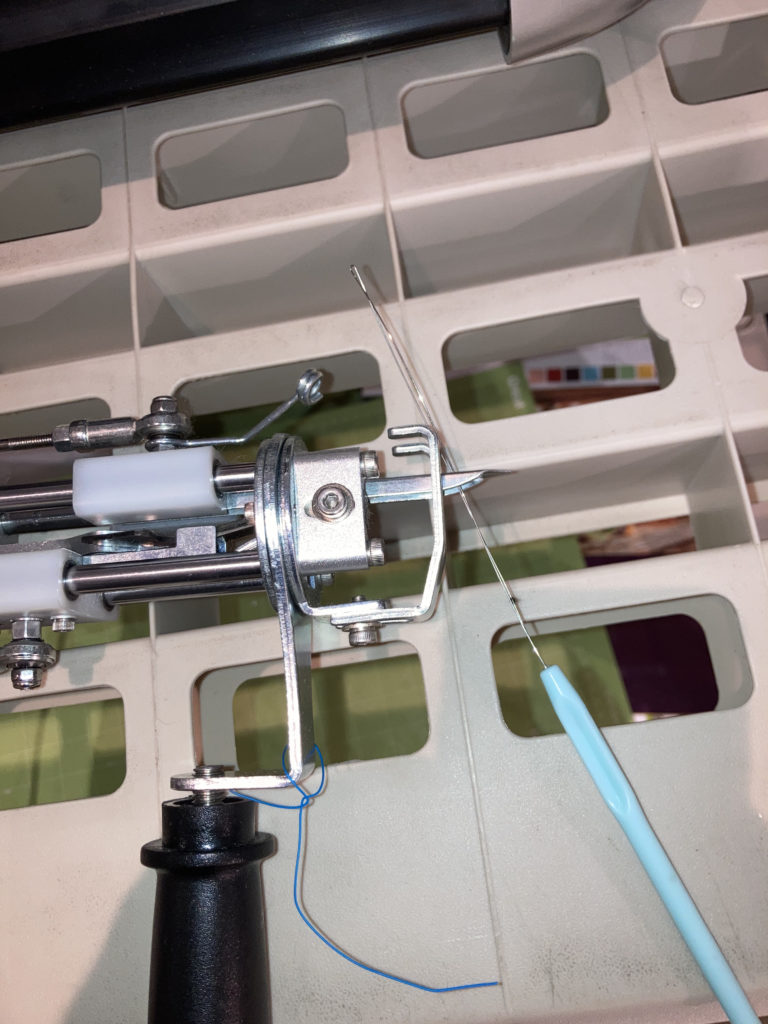 Finally, put the thread helper tool (light blue object) through the needle eye of the tufting gun.
Thread the yarn through the top hold and the thread helper tool
Pull the thread helper out of the needle eye with the yarn.
Congrats, the tufting gun is now ready to use!
Usage
Press the gun firmly into the desired spot of your fabric and pull the trigger. Move the gun in a consistent pace and direction. If you are doing everything right, the yarn will continually be fed into the gun.
You will need to make a decision about how dense you want your rug to be. This will determine how much spacing to put between your lines. See the below picture for an example: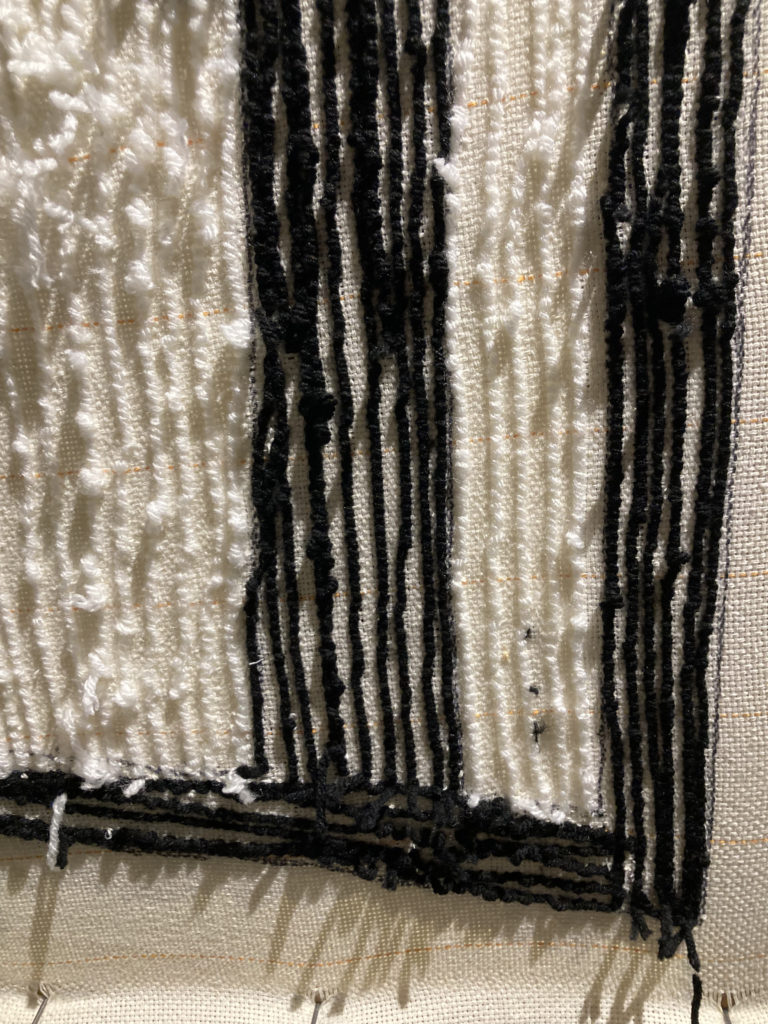 Monitoring
Don't overload an area of the fabric with too much yarn. It will degrade and form holes. If this happens, your best bet is to glue a different part of the fabric into the hole after you are finished tufting.
Shutdown & Cleanup
Clean up the yarn that fell onto the ground, and store the gun properly where you found it.
Troubleshooting
| Symptom | Cause | Solution |
| --- | --- | --- |
| Yarn keeps falling out | Line tension | Ball it up! |
| Tufts are knotted and ugly looking | Fabric tension | Press harder into the fabric |
Accessories
Thread helper tool
Yarn winder
Frame
Projector
Materials
Members need to supply their own tufting fabric and yarn.
Files & Resources
This section is for links to things like:
Specifications
| | |
| --- | --- |
| Name | Tufting Gun |
| Manufacturer | |
| Year Released | |
| Model | |
| Serial No. | |
| Software | |
| Other | It's a cut pile tufting gun (not a loop pile) |
History
This section is for noteworthy events such as:
Purchased by the board in April 2023.